There's 'No place like home'
25-Nov-2022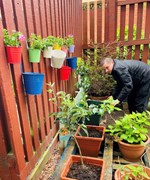 Each year the HSEU (Housing Support and Enabling Unit) hold a photography competition to celebrate the achievements of people who receive housing support, called 'No place like home'. This year, Shaun, who is supported by Community Lifestyles, entered the competition with an image entitled 'Grow my own veg.', which shows him tending to his garden crops. And we're delighted to report that Shaun was one of the winning entries! Huge congratulations, Shaun!
Shaun has a very busy life and gardening is just one of his many passions. ging himself through learning and speaking up on issues he's interested in. And we were really keen for him share what he loves about gardening and also what prompted him to enter the competition. 
"The reason why I started doing gardening is that it gives me an outlet. Instead of getting angry at things going on around me that I felt I had no control over ... I poured that anger into something creative, that would be the opposite of what I was feeling.                                              
This, over time, started to give me some form of joy and was an uplift to my mental health when feeling down and powerless. I started to see that not only did the work I put into the gardening pay-off but also had a positive effect, during the lockdown, on the lives of others around me. The veg that I grew was used by my neighbours to make soup during winter.
The fruit that now grows in the garden is free for everyone to help themselves to and others have made use of the garden and of the equipment that I got for it now to hold birthday parties and BBQs with families.  This has given me joy. 
It was for that reason, with a good bit of encouragement from the support around me, that I wanted to and did take part in the competition as I felt proud of what I have done and wanted to show it off to others."