A message to our staff
27-Mar-2020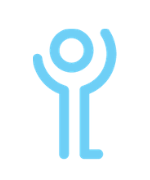 Key and Community Lifestyles have an enormous part to play in ensuring that the people we support are helped to stay safe and well whilst we do everything we can to maintain essential supports and assist in the ongoing response to the COVID-19.  Our ability to do this relies on the commitment and dedication of our workforce and I wanted to pass on my huge thanks to you all for the way in which you have all risen to this challenge, with energy, commitment and compassion.
As essential workers you have so many people relying on you to come to work. We owe you an immense debt of gratitude for everything you are doing for the people we support and for the creative and innovative ways in which you are continuing to contribute. We have quite literally been inspired and humbled by the many individual stories that have been shared about your generosity of time and spirit. We also know you may have your own personal anxieties about your health and that of your households, and we will do our best to support you with this.
These are exceptional times and it is likely that we will have some difficult weeks ahead of us. We will all have a part to play in making a difference and helping to support our colleagues, communities, people who use our services and their families.  I have no doubt that you will all do this in a way which has mutual trust and respect for each other, and keeps the needs of the people we support, at the heart of everything we do.  
You are an amazing bunch of people and I am so very proud to be a part of what you are achieving.
With thanks and very best wishes
Andrea