Thank you to all our staff
23-Apr-2020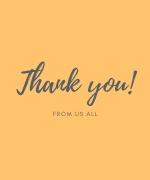 Each Thursday night at 8pm people right across Scotland and the UK have been appearing at their front doors to show their appreciation for those members of our communities who are performing essential tasks as key workers. 'Clap for Carers' has become a way of us all acknowledging how vital and valuable their contributions are.
This week the Board Members of Key and Community Lifestyles wanted to add their voices to 'Clap for Carers' and thank every single member of staff for all they're doing to support individuals, families and the organisation through this difficult time.
Despite the challenging circumstances we find ourselves in, everyone is finding different ways of contributing to our work and we would like to pay tribute to their high standards of professionalism and their kindness, passion and creativity.  
A huge number of our colleagues provide direct support to people in their own homes and we are particularly grateful to them for continuing to do so. As always, they have demonstrated that they are ready to face challenges and go the extra mile to ensure that people we support are safe, well, connected to the important people in their lives and able to enjoy activities even with the current restrictions in place.
Everyone involved with Key and Community Lifestyles knows that our strengths are in our exceptional staff group and we are hugely proud of their dedication, skill and commitment