A Haven for the Highlands & Islands
11-Mar-2022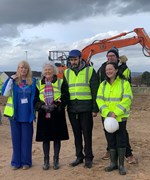 We're delighted to support the work of the Elsie Normington Foundation in providing a purpose built resource for children and adults with complex needs for the Highlands and Islands. It has taken many years of effort on the part of the Foundation and its creator, Elsie, in particular to raise sufficient funds and secure a suitable location to get the project off the ground.
So, it's fantastic to be able to report that the building work for The Haven Centre was officially kickstarted yesterday with a ground breaking ceremony and celebratory event at a nearby venue. 
The chance to rock some serious Hi-Viz clothing and watch the big diggers get to work was followed up by the celebratory event which brought together the project partners, families and individuals, Inverness's Lady Provost and even a special video call-in from Kate Forbes MSP.
We're told, though, that the undisputed highlight of the day was a fabulous performance from the renowned Rainbow singers. 
Now that the project build is underway, we look forward to continuing to play our part in its development and an expected opening date in early 2023!