Make some noise for Key Falkirk!
18-Feb-2022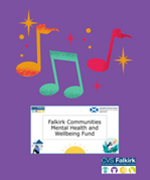 We are delighted to bring you news of Key Falkirk's successful application to the Falkirk Communities Mental Health and Wellbeing Fund (which is managed by CVS Falkirk). This funding will support the creation of a music group for people supported by our teams across Falkirk and will provide opportunities for people to safely come together, make music and have lots of fun.
Several care homes in the Falkirk area have also signed up as partners in the project and the group will be visiting the care homes to take their music and singing activities to residents.
To help the group get started on their musical journey they will be working with skilled facilitator, Iain Cuthbertson, of Entertainment IC, who had this to say about supporting the project:
"I am delighted and proud to be working again with the folks from Falkirk; I am excited to be working on something that has so much potential."
There will be more on this story in the coming weeks and months and you can be sure that we'll keep you up to date with all the developments.