Shaun has a thirst for knowledge!
03-May-2022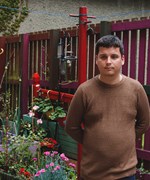 Shaun is supported by Community Lifestyles in Glasgow West. He has a passion for learning and was motivated to use the periods of lockdown we experienced throughout the pandemic as an opportunity to complete a variety of online courses. These covered a range of topics provided by various learning organisations, such as the Open University.
His experiences of online learning during lockdown further increased Shaun's quest for more knowledge and led to him gaining a place on LEAD Scotland's 'Thinking Digitally' course, which is certificated to SCQF Level 6. The course focuses on online accessibility, cyber resilience and the use of online tools particularly to increase your knowledge and skills around digital accessibility for a range of audiences, including disabled people. Read more about Thinking Digitally. 
We are delighted to report that Shaun passed the course with flying colours and received his certificate just last week. And although Shaun is modest about his own achievements, his team have ensured that his success has been celebrated. Ewen who is the team leader for Shaun's support said: "His work really is exceptional, Shaun is really exceptional in all honesty."
His Learning Coordinator, was also a constant source of guidance, feedback and encouragement to Shaun throughout the course. They had this to say about the digital artefact which Shaun had to create as part of his learning portfolio: "... really well done for all the work you have done so far, your artefact is really very impressive, and you have worked so hard to make it accessible."
Read Shaun's special #LDWeekScot2022 blog about his experience of completing the course.