Happy 10th Birthday to TAG!
23-Feb-2022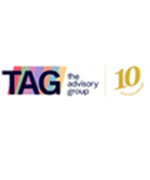 We're sending huge happy birthday wishes to our wonderful friends at National TAG today, as they celebrate their 10th year since becoming an independent charity. And what a decade it's been!
They have achieved so much in those years; from schools groups, through supporting the inclusivity of Key's board and ensuring the people we support have a strong voice in everything we do and the support we provide, to employing their own Community Development Workers to increase disabled people's participation in their local communities and open up their access to SDS. It's been amazing to watch them go from strength to strength and grow their regional presence, whilst remaining entirely focused on promoting inclusion and fighting discrimination.
And, there was no way a global pandemic was going to get in their way. They went to provide an amazing array of fun, interesting and inclusive activities to keep people busy and connected whilst they were "stuck in the hoose"!
Congratulations TAG, we cannot wait to see what you get up to in your next decade.