New development in North Ayrshire
06-May-2022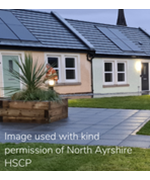 We are delighted to be part of a partnership between North Ayrshire Health and Social Care Partnership and North Ayrshire Council to support disabled people to move into homes of their own in Stevenston. 
The new development, called Caley Court, will be ready in late summer and will have a range of adaptations and assistive technology to help people live independently. Our team based in Saltcoats will be providing support to people as they move in and Area Manager, Allison Wright, who oversees Key's supports across Ayrshire, is keen to get ahead with ensuring everything is in place for people moving in later this year:
"We are delighted to be partners in this exciting development. We are very much looking forward to getting to know the people due to move into their new homes, working alongside them and their families in planning the support they need to live good lives."
"Having excellent support workers, who know you well, is at the heart of providing really good support, so we are launching our local recruitment campaign now and want to hear from folks who are looking to join our very friendly, local team to make a positive contribution to people's lives."  
"We are hosting two recruitment events at the Ardeer Community Centre in Stevenston on 9th (9.30am-12.30pm) and 12th May (1pm-4pm) for people to come along and find out more about the opportunities we have to offer."