Key's 44th AGM
16-Sep-2022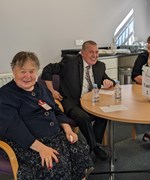 We were so grateful that we were able to host this year's AGM partly in person. Several of our board members and association members were joined by a small number of our staff, who are based at the Square, at the meeting which took place at our offices.
One of the positive things to come from the past few years of the pandemic is the progress we've all made towards being able to join meetings virtually. So, it was great to be able to offer a hybrid approach to our AGM which meant people not able to travel to Glasgow for whatever reason were still able to take part. 
It was lovely to see so many familiar faces both in person and online, and are hopeful that next year's AGM will be an opportunity to bring even more people together to reflect upon our year.